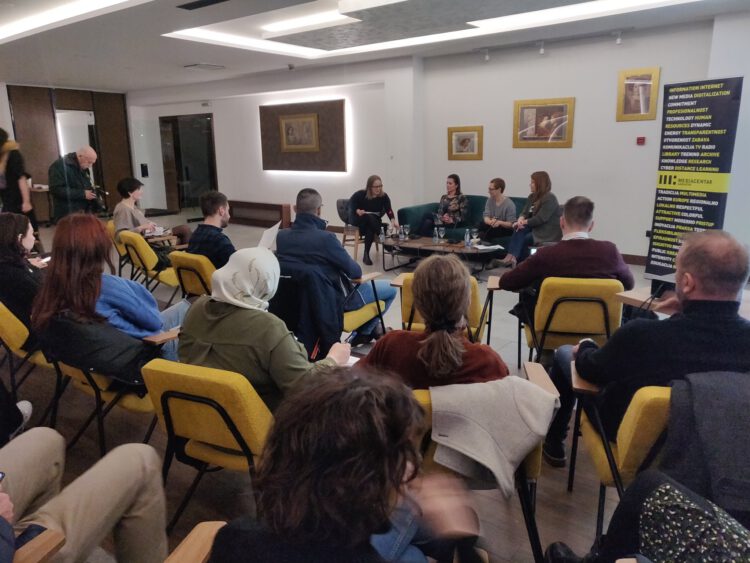 Solutions journalism is fast gaining practitioners as news organizations in Europe embrace its constructive approach to journalism. Transitions, as a hub of solutions-oriented reporting in CEE, is making many efforts to spread its adoption in the region, including in post-conflict societies like that of Bosnia and Herzegovina.
Continuing to support local media and journalists, our partner, Mediacentar Sarajevo, organized a panel discussion on 15 February about the benefits of solutions journalism in Bosnia. This event was funded by Transitions' solutions journalism program, and moderated by the editor-in-chief of Media.ba, Marija Arnautovic. The panel was composed of Vanja Stokic, editor-in-chief of Banja Luka-based online media outlet eTrafika; Vladimira Dorcova Valtner, editor-in-chief of Storyteller from Serbia; and Anida Sokol, a researcher and solution journalism trainer from Mediacentar Sarajevo. eTrafika is a member of the first solutions journalism cohort in CEE, which Transitions launched at the end of 2022.
A total of 30 participants attended the panel, mostly journalists from various media, including the Balkan Investigative Journalism Network, UNA TV, Start magazine, Al Jazeera Balkans, RTRS, FTV, and BN TV, as well as journalism students and representatives of some civil rights organizations, such as Civil Rights Defenders.
The panel discussed what constitutes constructive and solution-oriented journalism, how to produce short TV news reports following SoJo principles, and how to compete with low-quality, sensationalist, and "copy-pasted" online articles. The all-women panel also discussed the experiences of female journalists who engaged in solution journalism and how one can apply solutions journalism to reporting on social problems, marginalized social groups, and environmental topics. A workshop followed the talk where participants – journalists and journalism students – learned more about the principles of solution-oriented journalism and the craft of writing such stories.
Photos – A panel discussion on advantages of solutions journalism organized by our local partner Mediacentar at Holiday Hotel in Sarajevo (Photos credits: Mediacentar Sarajevo). More photos here.