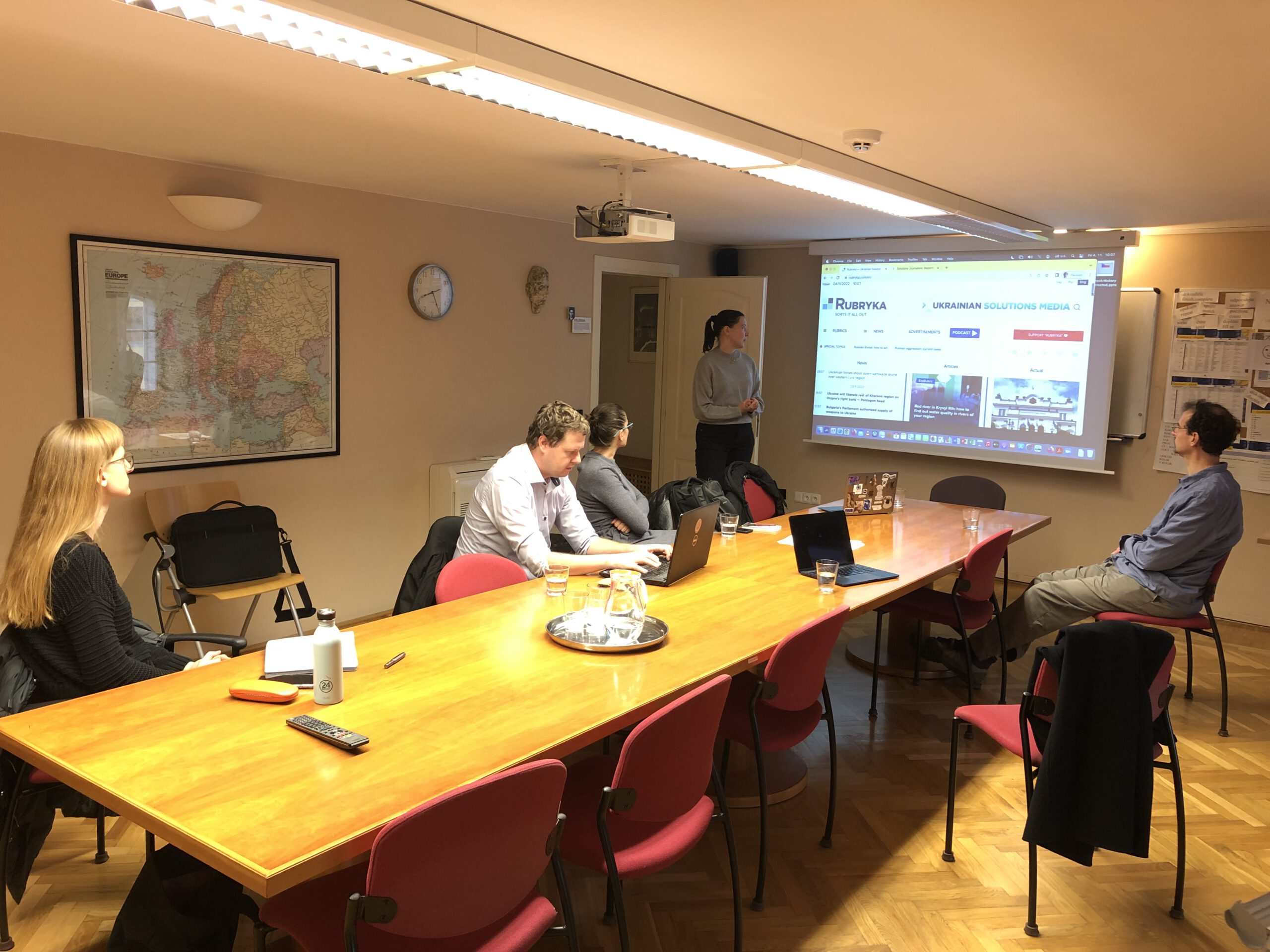 Transitions has now proudly expanded its solutions journalism work beyond supporting freelancers and staff journalists to newsrooms! Last year we launched our very first solutions journalism cohort of newsrooms with five newsrooms, including a Ukraine-based solutions media outlet, Rubryka; the Slovak daily Dennik N; the Bosnian news outlet, e-Trafika; the Lithuanian public broadcaster LRT; and the Czech monthly magazine Reporter. Thanks to a generous donor, Transitions was then able to hand out subgrants to the newsrooms for them to work on solutions-oriented projects.
Even before our cooperation started, LRT had integrated the solutions journalism format into virtually all its output – television, radio, and digital. In this case, the newsroom formed a team specifically for the solutions journalism project "LRT looking for solutions." Starting with a story on how Lithuania wants to abolish children's homes, the team reported cross-border solutions stories from Finland and Estonia on the transition from institutional to family- and community-based services for children who have been left without parental care. Also check out their TV report and radio discussion on the topic (in Lithuanian).
Rubryka's solutions stories on Ukrainian farmers overcoming war challenges and subways as a concert venue explain local solutions to a foreign audience in the context of the everyday Ukrainian reality of living in a war-torn country.
Dennik N took to education, exploring how Slovakia – which suffers from an acute shortage of kindergartens and primary schools – can successfully build more schools in their story: What should a modern school look like that will prepare children for life in 2035. You can find an English-language translation that Transitions published here.
Primary and secondary education in Bosnia and Herzegovina is not free, even though it is presented as such. Students do not have to pay school fees, but they do have to pay for overpriced books, transportation to school, snacks, school trips, and other things that significantly burden the household budget. In its three-part project, eTrafika highlights local responses to tackle this problem in the cities of Brčko, where Free Transportation is a big relief for families; Banja Luka, where meals are being provided for poor students; and Sarajevo where students are being provided free textbooks.
Inclusive education was a big theme among the cohort, as evident also by the story from our Czech partner, Reporter. Their story followed a little boy called Vasek – who has been diagnosed with Asperger Syndrome – and talked about the state of inclusion in the Czech educational system. A Second Year with Vasek. A report about how we can (not) take care of different children highlights the experience of Vasek and how we can make our education system more inclusive.
Big applause to these newsrooms for bringing these issues – and solutions – to light and not just settling for describing the problem!