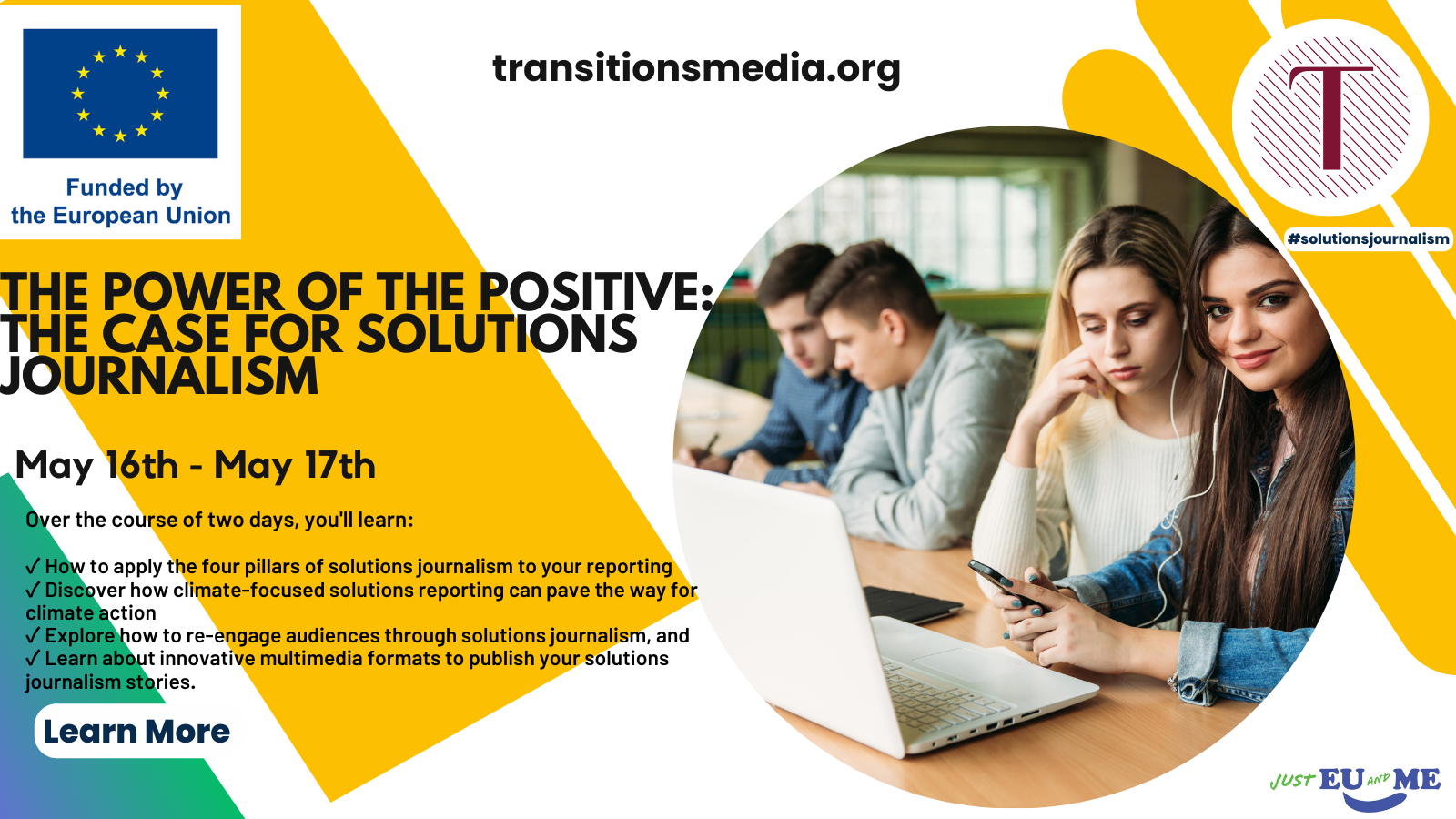 Are you tired of the negative, problem-focused news that leaves you feeling overwhelmed and helpless? Do you want to learn how to report on solutions to social issues and inspire your audience with stories of positive change? Are you a student, youth activist, media professional between 18-30 years and interested in solutions-oriented storytelling? Then this workshop is for you! Our expert trainers and guest speakers from Transitions will guide you through the principles and practices of solutions journalism, a new approach to reporting that emphasizes effective responses to social issues, rather than just the problems.
Over the course of two days, you'll learn:
✓ How to apply the four pillars of solutions journalism to your reporting
✓ Discover how climate-focused solutions reporting can pave the way for climate action
✓ Explore how to re-engage audiences through solutions journalism, and
✓ Learn about innovative multimedia formats to publish your solutions journalism stories.
Through interactive exercises, group discussions, and inspiring case studies, you'll gain new skills, connect with fellow journalists and media professionals, and leave with practical tools and insights to bring solutions journalism to your work. Don't miss this opportunity to be part of a new movement in journalism that empowers and inspires change!
Tuesday, May 16
14:00–17:00 CET

Wednesday, May 17
14:00–17:00 CET
You can find the detailed event schedule here.
Speakers:
Meenal Thakur, Solutions Journalism Trainer and Programme Manager, Transitions
Jeremy Druker, Executive Director and Editor in Chief, Transitions
Guest speakers:
Jocelyn Timperley, Freelance Climate Journalist
Jakub Górnicki, Co-founder and Reporter, Outriders
The workshop is being organised within the JUST EU and ME project, funded by the European Union's Citizens, Equality, Rights and Values (CERV) Programme (2021-2027).
#JUSTEUandME #europeanpillarofsocialrights #solutionsjournalism